Return to Headlines
Superintendent Harkin Weekly Update for January 14
Good Evening,
Today's message includes:
Changes to COVID-19 Guidance

Effective Immediately

Status of the Test-to-Stay Program; and

District 300 Highlights.
Changes to COVID-19 Guidance Effective Immediately:
In my previous message, District 300 was awaiting the complete guidance from the Illinois State Board of Education (ISBE) and the Illinois Department of Public Health (IDPH) related to in-person removal. The district had concerns regarding the return of positive students under the initial guidance; however, this is no longer the case with the updated guidance.
The initial guidance indicated that when positive students returned under the 5-day removal period and had to remove their masks for things such as lunch, they would need to maintain six feet of physical distancing. Schools could not accommodate this initial guidance due to space constraints, and, consequently, the district could not modify our timeline to return positive students. By removing the physical distance requirement, we can now return our positive students as indicated below.
Effective Immediately, District 300 will enact the following two items:
1. Positive student cases will observe a 5-day removal from the in-person school period. Upon returning to school, a student must:
Be asymptomatic;

Be fever-free without fever-reducing medication for 24 hours;

Have had diarrhea/vomiting ceased for 24 hours; and

Wear a well-fitting mask for five days upon return.
2. Athletic close contacts who return to school after observing a 5-day removal period may also return to athletics and extracurricular activities while adhering to other health and safety mitigation efforts. As each sport presents different risk factors, athletic directors and coaches will work with students to ensure they are aware of their specific mitigation efforts.
Additional Information for Positive Student Cases:
The district has created the table below to highlight the new return dates for students who have recently tested positive for COVID-19:
Please Note: Some individuals may have a different return date based on their unique circumstances.
If the updated guidance for positive cases impacts your child, your school will contact you to confirm their new return date. We ask that you do not call or email your child's school at this time as they are working to notify all families impacted.
The latest COVID-19 data, including the number of student and staff positive cases, can be found on District 300's COVID Data Dashboard.
Lastly, this past week, several parents contacted the district regarding the updated guidance. Many of these questions are addressed in the Illinois Department of Public Health's Frequently Asked Questions for Schools document that parents can access by clicking here.
Status of the Test-to-Stay Program:
At this time, District 300 is unable to offer the Test-to-Stay Program as an option for unvaccinated close contacts due to a nationwide testing shortage. The district is working with local providers to acquire additional tests. As soon as the district receives additional tests, we will resume the Test-to-Stay program.
D300 Highlights:

During one of the most difficult weeks of the school year due to the volume of student and staff absences, I am so delighted to celebrate the achievements of our amazing District 300 students with you!
Congratulations to the

Jacobs High School Dance Team

who won the Fox Valley Conference title last night for the second straight year!





Congratulations to

Hampshire High School senior, Jake Kennedy

! Jake has received a

congressional nomination

from Rep. Lauren Underwood.





Congratulations to

Hampshire Jr. Whip-Purs, Pee-Wee football team

who recently

won the Mid-West regional championship!

The team includes students from both

Hampshire Middle School

and

Dundee Middle School.



Congratulations to the

District 300 students

on both the

Algonquin Argonauts

and the

Hampshire Jr. Whip-purs

who have been recognized as

Pop Warner Chicagoland Scholars!
Closing:
If I missed mentioning something happening in our schools or with our students in the "D300 Highlights" section of this message, please feel free to contact me to be sure to provide acknowledgement in a future email.
As a reminder, there is no school on Monday, January 17th in observance of Martin Luther King Jr. Day. I wish you a wonderful weekend and a wonderful holiday.
Sincerely,
Susan Harkin
Superintendent
Buenas noches,
El mensaje de hoy incluye:
Cambios en la guía de COVID-19 con vigencia inmediata.

Estatus del Programa Test-to-Stay; y

Lo más destacado del Distrito 300.
Cambios en la guía de COVID-19 con vigencia inmediata:
En el mensaje anterior, El Distrito 300 estaba esperando la guía completa de la Junta de Educación del Estado de Illinois (ISBE) y el Departamento de Salud Pública del Estado de Illinois (IDPH) en relación con la remoción en persona. El distrito estaba preocupado con respecto al regreso de estudiantes positivos bajo la guía inicial; sin embargo, este ya no es el caso con la guía actualizada.
La guía inicial indica que cuando los estudiantes positivos al regresar durante el período de remoción de 5 días y tuvieran que quitarse los cubrebocas para cosas como el almuerzo, tendrían que mantener 6 pies de distanciamiento físico. Las escuelas no pudieron adaptar esta orientación inicial debido a limitaciones de espacio,y en consecuencia el distrito no pudo modificar nuestro lapso de tiempo para regresar a estudiantes positivos. Al eliminar el requisito de distanciamiento físico, ahora podemos regresar a nuestros estudiantes positivos como se indica a continuación.
Con vigencia inmediata, el Distrito 300 promulgará los siguientes elementos:
Los casos de estudiantes positivos serán excluidos por un período de 5 días de la escuela en persona

. Al regresar a la escuela, un estudiante debe:
Ser asintomático;

Estar libre de fiebre sin tomar medicamento durante 24 horas;

No haber tenido diarrea/vómito durante 24 horas; y

Usar un cubrebocas bien ajustado durante cinco días después de su regreso.
Los contactos cercanos de atletismo que regresan a la escuela después de ser excluidos por un período de 5 días también pueden regresar a las actividades deportivas y extracurriculares mientras se adhieren a otros esfuerzos de mitigación de salud y seguridad.

Como cada deporte presenta factores de riesgo, los directores deportivos y entrenadores trabajarán con los estudiantes para asegurarse de que estén al tanto de los esfuerzos de mitigación específicos.
Información Adicional para Casos de Estudiantes Positivos:
El distrito ha creado la siguiente tabla para destacar las nuevas fechas de regreso para los estudiantes que recientemente dieron positivo para COVID-19: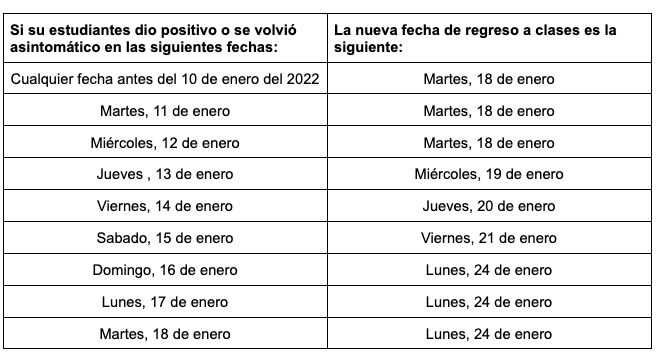 Tenga en cuenta: Algunas personas pueden tener una fecha de regreso diferente según sus circunstancias únicas.
Si la guía actualizada de casos positivos afecta a su estudiante, su escuela se comunicará con usted para confirmar la nueva fecha de regreso. Le pedimos que no llame o mande un correo electrónico a la escuela de su estudiante en este momento, ya que están trabajando para notificar a todas las familias afectadas.
Los últimos datos de COVID-19, incluida la cantidad de casos positivos de estudiantes y personal, se pueden encontrar en el tablero de datos de COVID del Distrito 300.
Por último, la semana pasada, varios padres se comunicaron con el distrito con respecto a la guía actualizada. Muchas de estas preguntas se abordan en el documento de Preguntas Frecuentes Para las Escuelas del Departamento de Salud Pública de Illinois al que los padres pueden acceder al hacer clic aquí.
Estatus del Programa Test-to-Stay:
En este momento, el Distrito 300 no puede ofrecer el Programa Test-to-Stay como una opción para los contactos cercanos no vacunados debido a la escasez de pruebas en todo el país. El distrito está trabajando con proveedores locales para conseguir pruebas adicionales. Tan pronto como el distrito reciba pruebas adicionales, reanudaremos el Programa Test-to-Stay.
Lo más destacado de D300:
¡Durante una de las semanas más difíciles del año escolar debido al volumen de ausencias de los estudiantes y el personal, me complace celebrar los logros de nuestros increíbles estudiantes del Distrito 300 con ustedes!
¡Felicitaciones al

Equipo de Baile de la Escuela Preparatoria Jacobs

que ganó el título de la Conferencia Fox Valley anoche por segundo año consecutivo!





¡Felicitaciones al

Estudiante de Último Año de la Escuela Preparatoria Hampshire, Jake Kennedy

! Jake ha recibido una

nominación al congreso

de la representante Lauren Underwood.





¡Felicitaciones al

Equipo de Fútbol de Hampshire Jr. Whip-Purs, Pee-Wee

que recientemente

ganó el campeonato regional del Medio Oeste!

El equipo incluye estudiantes tanto de la

Escuela Secundaria Hampshire

como de la

Escuela Secundaria Dundee.



¡Felicitaciones a los

Estudiantes del Distrito 300

por los

Algonquin Argonauts

y los

Hampshire Jr. Whip-purs

que han sido reconocidos como

Pop Warner Chicagoland Scholars!
Clausura:
Si no mencioné algo que esté sucediendo en nuestras escuelas o con nuestros estudiantes en la sección "Lo más destacado del D300" de este mensaje, no dude en comunicarse conmigo para asegurarse de que lo confirme en un futuro correo electrónico.
Como recordatorio, no hay clases el lunes 17 de enero en conmemoración del Día de Martin Luther King Jr. Les deseo un maravilloso fin de semana y un maravilloso día festivo.
Atentamente,
Susan Harkin
Superintendente