Return to Headlines
Updated COVID-19 Guidance
Dear District 300 Parents and Guardians:
As mentioned in a previous message, the Illinois Department of Public Health, the Illinois State Board of Education, and the Kane County Health Department announced they would be adopting the CDC guidance for Pre-K through 12 schools.
The district has reviewed the updated guidance, and I would like to inform families how it will impact our students.
Positive student cases will continue observing a 10-day removal from in-person school for the following reasons:

Elevated District 300 positive students cases;

Inability to ensure students are wearing a well-fitted mask around others and at home;

Inability to ensure students avoid being around immunocompromised staff and students; and

Inability to ensure 6 feet of physical distancing when not wearing a mask (particularly while eating meals).
We will continue to review and reevaluate the positive student case isolation period with the opportunity to modify if warranted.
Close Contacts:



Fully-Vaccinated Close Contacts do not need to observe a removal from in-person school. Click on this link for more details.
Unvaccinated Close Contacts (school day or household) will observe a 5-day removal from in-person school. Click on this link for more details. Please see the table below for the revised return to school dates.


Athletics Close Contacts will continue following the previous guidance until we receive updated guidance from our local health department.
Please note, this announcement does not change the State of Illinois' universal masking requirement for anyone inside school buildings. The Governor's indoor mask mandate for school is still in effect until further notice.
Next Steps for Families:
If this updated guidance impacts your student, your school will be contacting you regarding the change in your student's return date to school. We ask that you do not call or email the school as they are working expeditiously to promptly notify all families impacted.
Additionally, we ask that parents comply with the following reminders:
All students must mask and maintain social distancing at all times.

Close contacts are encouraged to test on day 5, if possible, before returning to in-person learning.

If a student develops symptoms, they should immediately isolate until a negative test confirms symptoms are not caused by COVID-19.
Students who have tested positive will continue observing their original removal from their in-person school period.
Unvaccinated close contact students must quarantine for five (5) days. The following is a table with the revised return to school dates.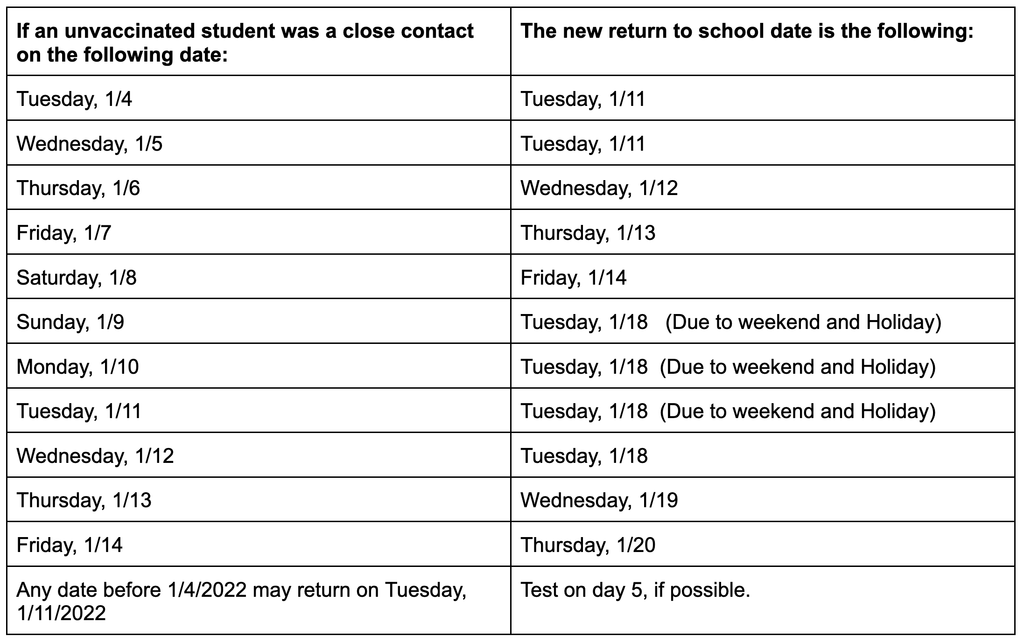 As with all new guidance, please expect additional clarification as IDPH and ISBE provide more information in the coming weeks. Additionally, the district will continue monitoring its metrics with an opportunity to modify the guidance if warranted.
Once again, thank you for your continued support as we navigate these changes.


Sincerely,
Susan Harkin
Superintendent