Return to Headlines
Information Regarding the Return to In-Person Learning on January 11, 2021
District 300 Parents and Guardians,
District 300 looks forward to welcoming students back into our schools on Monday, January 11, 2021.
The district previously provided a number of useful links in a message sent on December 4th. Those links have also been provided below for your convenience:
Transportation Updates:
For students who will be using district transportation, please know that your student's route information is available in the Parent Portal.
During the first week of school, there may be delays in pick-up and drop-off times. The district anticipates afternoon bus route delays of 15 to 30 minutes (during the first week) due to the additional time taken at school to ensure students are being placed on the correct bus and to follow additional COVID-19 safety measures. Parents and guardians will not receive RCS notifications during the first week if a bus route is delayed. However, after the initial week, if a child's bus route is running more than 10 minutes late, parents and guardians will receive an RCS message.
COVID-19 Health Related Questions:
As parents and guardians are likely to have questions related to COVID-19, we have provided answers to frequently asked questions below with information from the Illinois Department of Public Health (this information is also available as a PDF by clicking here):
COVID-19/ Illness Related FAQ for Parents/Guardians
Information from the Illinois Department of Public Health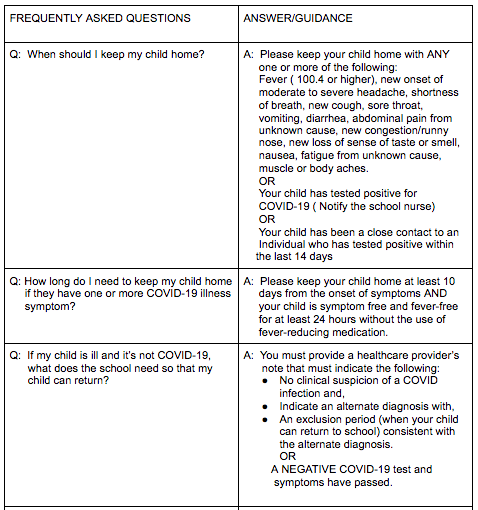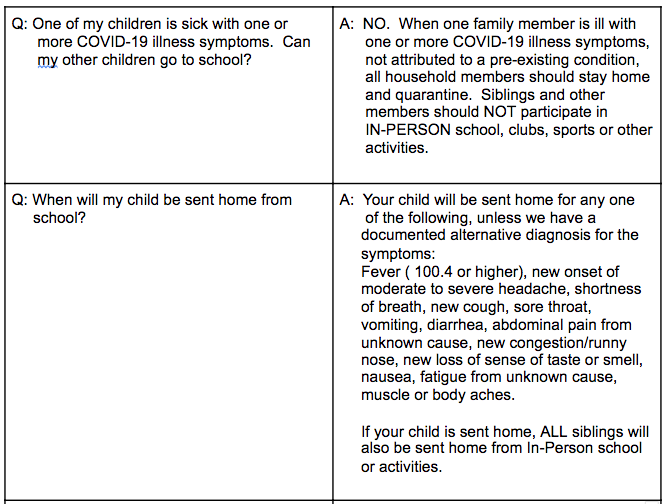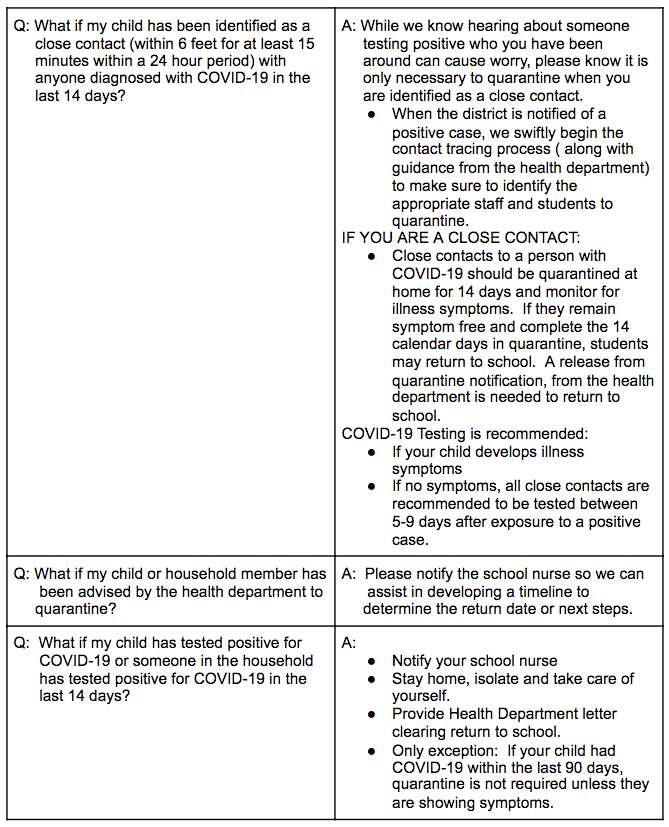 Recently, the Illinois Department of Public Health updated their exclusionary guidance to be more specific. Please use this link to see the most recent version: https://www.isbe.net/Documents/IDPH-COVID19-Exclusion-Decison-Tree.pdf
Padres y Tutores del Distrito 300:
El Distrito 300 espera darles la bienvenida a los estudiantes a nuestras escuelas el lunes, 11 de enero.
El distrito proporcionó previamente una serie de enlaces útiles en un mensaje enviado el 4 de diciembre. Estos enlaces también se proporcionan a continuación para su conveniencia.
Este manual describe detalles específicos para varios temas, incluyendo la limpieza, cuarentena, requisitos de cubrebocas, procedimientos de detección y horarios diarios.
Actualización de Transporte:
Para los estudiantes que utilizarán el transporte del distrito, por favor, tenga en mente que la información de la ruta de su estudiante está disponible en el Portal para Padres.
Durante la primera semana de clases puede haber retrasos en los horarios de recoger y dejar a los estudiantes. El distrito anticipa retrasos de 15 a 30 minutos en las rutas de autobús por la tarde (durante la primera semana) debido al tiempo adicional que se tomará en las escuelas para asegurar que los estudiantes estén en el autobús correcto y seguir las medidas de seguridad adicionales de COVID-19. Los padres y tutores no recibirán notificaciones durante la primera semana si la ruta del autobús se retrasa. Sin embargo, después de la primera semana si la ruta del autobús de un estudiante se retrasa más de 10 minutos, los padres y tutores recibirán un mensaje.
Preguntas Relacionadas a la Salud y COVID-19:
Dado que es probable que los padres y tutores tengan preguntas relacionadas con COVID-19, a continuación, proporcionamos respuestas a las preguntas más frecuentes con información del Departamento de Salud Pública de Illinois (esta información también está disponible en formato PDF haciendo clic aquí):


Preguntas Frecuentes Relacionadas con COVID-19 / Enfermedades para Padres/Tutores
Información del Departamento de Salud Pública de Illinois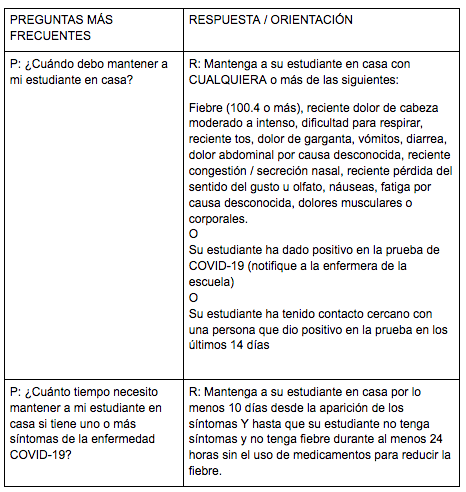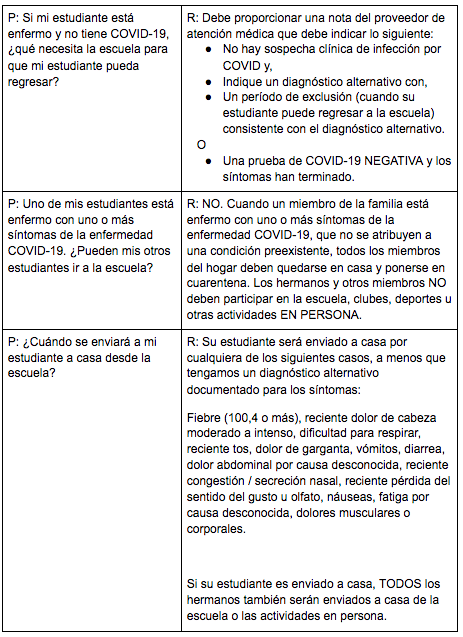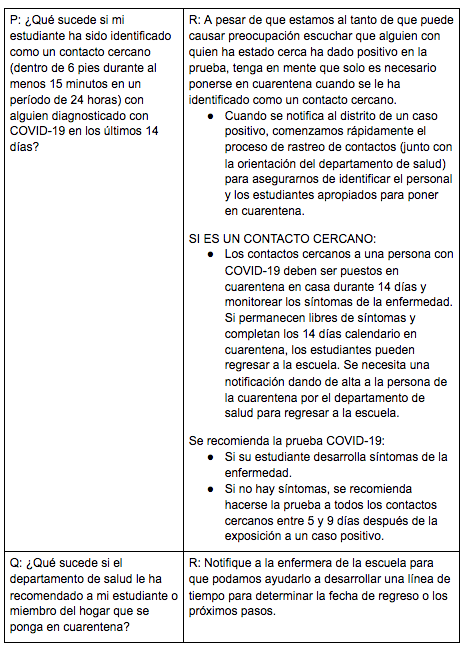 Recientemente, IDPH actualizó su guía de exclusión para ser más específica. Utilice este enlace para ver la versión más reciente.
https://www.isbe.net/Documents/IDPH-COVID19-Exclusion-Decison-Tree.pdf