Return to Headlines
An Important Instructional Delivery Change Update from District 300
Dear Parents and Guardians,
Please note: While the content at the beginning of this message is specific to parents and guardians of students in kindergarten through 5th grade, the bottom portion of the message includes updates for preschool, middle school, high school, Oak Ridge School, and self-contained students.

On Tuesday, October 27th the Board of Education approved the criteria and process District 300 will use when making decisions regarding our ability to host in-person instruction. The district will evaluate the status of in-person instruction based on a thorough analysis of health department dashboard metrics, student COVID-19 cases, and any impact to our ability to staff schools when making decisions about changes to in-person instruction. For a more detailed explanation of these metrics, please refer to the graphic below and this video of my presentation to the Board of Education.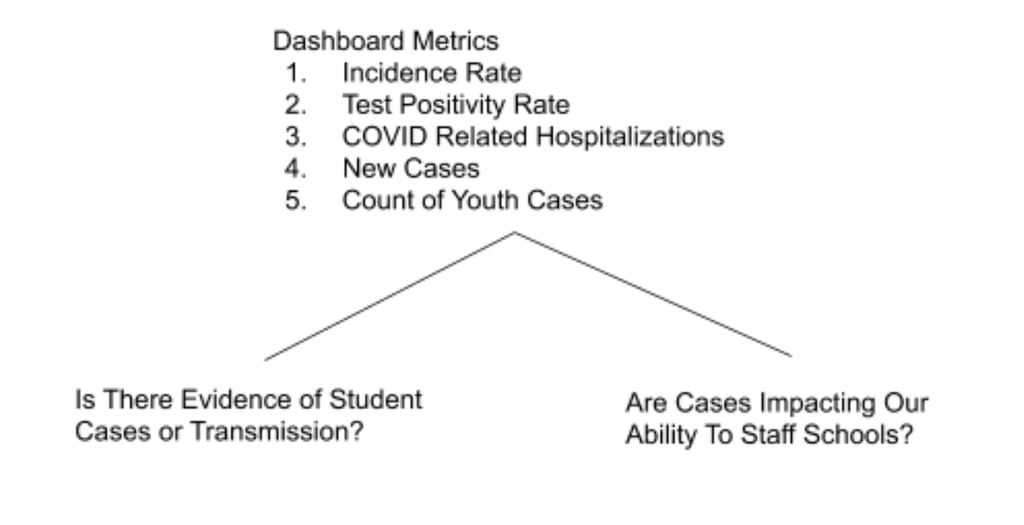 Decision:
We have fought to provide the option for both in-person and remote learning for our families and students. All the while we knew, and have shared, that our ability to do so is contingent on local conditions. Unfortunately, based on the previously mentioned criteria, we have reached a point where District 300 must suspend in-person learning and return everyone to remote status.
As such, effective Monday, November 2nd, District 300 will transition back to being fully remote through the Thanksgiving holiday. Please know that all students K-5 (see below for information regarding preschool, self-contained programs, and Oak Ridge) will revert back to their original teacher(s) and schedule for the first quarter with one exception to the Friday schedule (outlined below).
We are incredibly grateful for the herculean effort, flexibility, and dedication to children continually demonstrated by our elementary staff and administrators in opening K-3 in-person instruction and the Virtual Academy last week. They have done an amazing job and continue to demonstrate the highest level of commitment to our children. In addition, we are also incredibly proud of the over 90 staff who took on new instructional roles to ensure that we could offer a choice for our families. Their work and commitment are to be applauded and celebrated. However, I am certain they will be thrilled to return to their original roles and students next week.
We are not giving up on the in-person option. We are hopeful that the next three weeks will provide the time needed to see local COVID-19 indicators decline and support a return to in-person instruction. During this time we will also review and revise our in-person and remote learning options to minimize any additional changes and maximize our ability to serve both groups with their original teacher.
In order to be as consistent as possible for our students and staff, beginning November 2nd we will return to a regular elementary day schedule via remote learning, mirroring the first quarter, with the exception of Fridays.
Monday through Thursday:

The student learning day will begin at 8 a.m. and conclude at 2:15 p.m. Instruction will be delivered synchronously (live classroom).




Fridays:

Students will begin at 8 a.m. and conclude at 1:30 p.m. (allowing for a 30-minute lunch). Every Friday will be a blend of synchronous and asynchronous learning. Instruction for ELA (90 min) and math (60 min) will take place from 8 a.m. to 10:30 a.m. remotely with the classroom teacher. The remainder of the day will include an asynchronous specials choice board, i-Ready lessons, synchronous interventions, IEP and EL synchronous minutes and/or independent asynchronous tasks such as independent reading. The classroom teacher may also hold small group synchronous lessons with students as determined by the teacher.





Please view the

A/B/C/D/E calendar

by clicking on the link

to track the assigned letter day for specials rotations. Please note: Friday is an asynchronous specials day and there will be no "letter day" assigned to Fridays during the second quarter. Students will participate in asynchronous enrichment specials.





Parents can view their original students' classroom teacher assignment on Infinite Campus Parent Portal. Parents may follow

these instructions

to access their classroom teacher assignments.
Dashboard:
It is important to note that we do not apply health department dashboard metrics broadly across the district. Instead, we evaluate the metrics of the community surrounding the school by using data based on school zip codes. The dashboard requires that we begin reviewing other criteria when two or more of the dashboard metrics fall into the red column. When we apply this across our primary zip codes we find that zip codes within McHenry County are red in four of five indicators and Kane County is red for all five criteria as follows: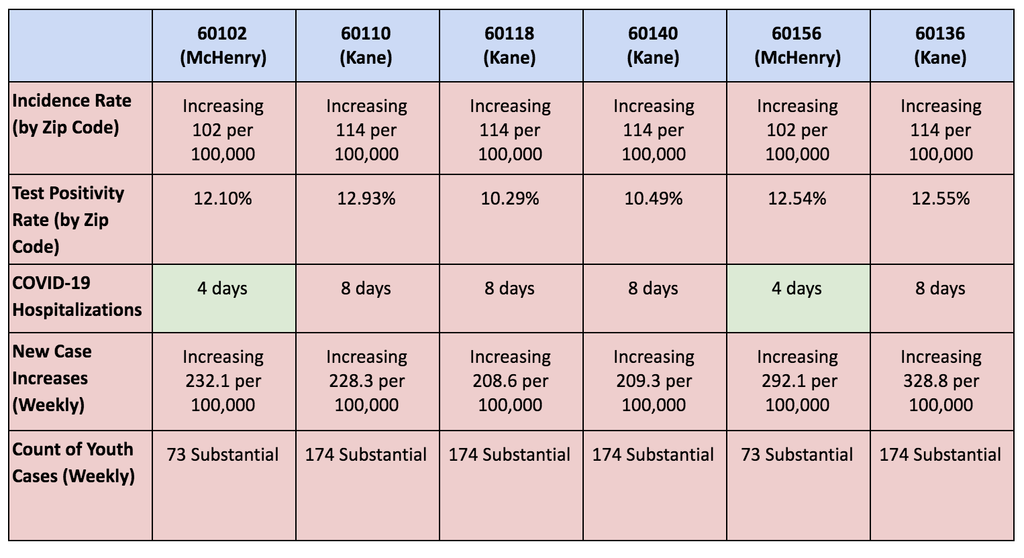 Student Cases or Evidence of Transmission:
To date, District 300 has held in-person school for just six days for kindergarten through 3rd grade. These six days resulted in the following:
Four classrooms have been closed and converted to remote learning due to exposure events.


One of the four classrooms was closed due to meeting the Health Department's definition of an outbreak (see the third bullet point)



We have had to quarantine 202 students for being identified as "close contacts" with another COVID-19 positive individual (student or staff member)



We are currently monitoring nine school buildings for possible outbreak events. For reference, both Kane and McHenry Health Departments define a classroom outbreak as:
"An outbreak in a school is defined as two (2) confirmed cases of COVID-19 infections occurring within 14 calendar days of each other in individuals in the same classroom, team, or club. This is because the cases would be epidemiologically linked (known exposure to each other) with respect to place (same classroom, team, or club) and time (within 14 calendar days). This would prompt an investigation by the McHenry County Department of Health that may result in recommendations for testing and quarantining of all students/staff in the affected classroom, team, or club and/or other mitigation interventions to include but not limited to cancellation of activities or closure of school." (https://insight.livestories.com/s/v2/mchenry-county-il-school-metrics-dashboard/649688f8-4d1b-4924-b492-eec339d5c6ab )"
Per the definition, the Health Department may direct us to close a classroom or the building depending on the specific nature of the events and how they are linked. As of October 26, the Illinois Department of Public Health (IDPH) defined 5 or more linked cases in a school as an outbreak that would result in a school closure.
At this time, there is sufficient evidence to suggest that COVID-19 events are rising within our student population.
Impact to Our Ability To Staff Schools:
As outlined above, we do review our COVID-19 data to determine if cases and/or resulting quarantine events are impacting our ability to support in-person learning. To date (since October 16th), we have had 59 COVID-related events involving our elementary instructional staff (teachers) of which 35 (or 59%) are in-person teachers who can no longer teach from the building each day. These events are also impacting our school administrative teams as we now have three building principals and one assistant principal in quarantine at this time. Our school teams have done an amazing job backfilling these positions, but we are quickly exhausting our resources and have reached a point where confirmed COVID-19 cases and COVID-19 related events are beginning to adversely impact our ability to deliver in-person instruction.
Student Schedules:
As the District transitions to remote learning on November 2nd, students will follow the schedules outlined below:
Quarter 2 Sample Elementary Instructional Schedule- Effective 11/2/20
K-5 Fully Remote Schedule: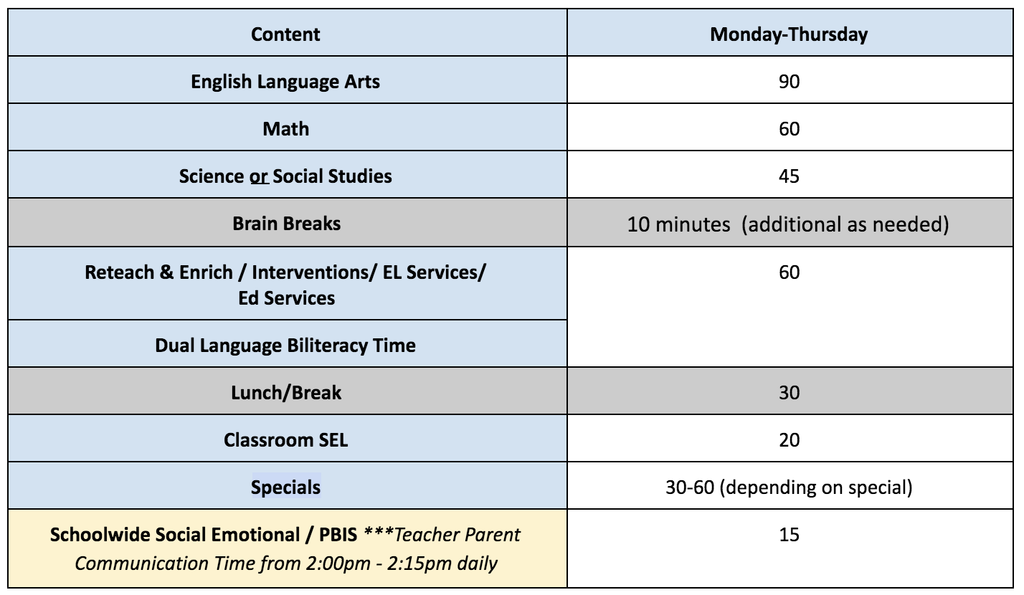 *The order of content will vary by building and classroom.
Fridays:




*** D300 understands the importance of home-school connections during remote learning. You will note that teachers have been allotted time within the student day to communicate with parents. Communication will focus on instructional activities as well as information regarding upcoming learning.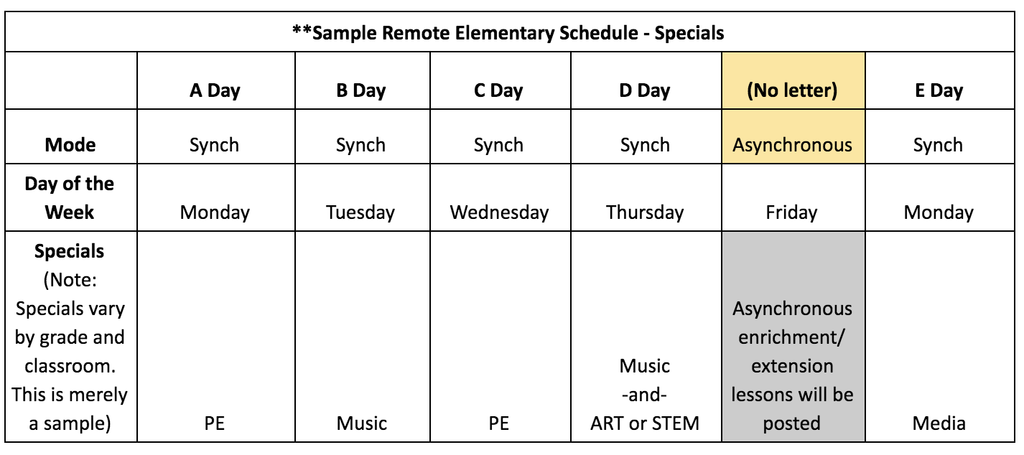 Pre-K, Self Contained, Oakridge, and Middle/High Schedules:
Self-Contained Special Education: Self-contained classes will continue to follow their current schedule and model.


Oak Ridge School: Oak Ridge will maintain its current schedule and model.


Middle and High Schools

:





Any middle or high school student identified by their principal as needing additional supports will now start on November 9th.





High School CTE students will continue on their established schedule.





Preschool -

Preschool schedules will change as follows:
Half-Day Preschool:
Half-day Preschool For All preschool students will return to their A/B in-person attendance schedule. Your child will revert back to their original classroom. Remote instruction will be conducted with your child's original teacher. This may require your remote time to shift each day to align with your teacher's remote instructional schedule.
Half-Day self-contained special education students will have no change to their current schedule or classroom assignment.

Teacher assignments are as follows: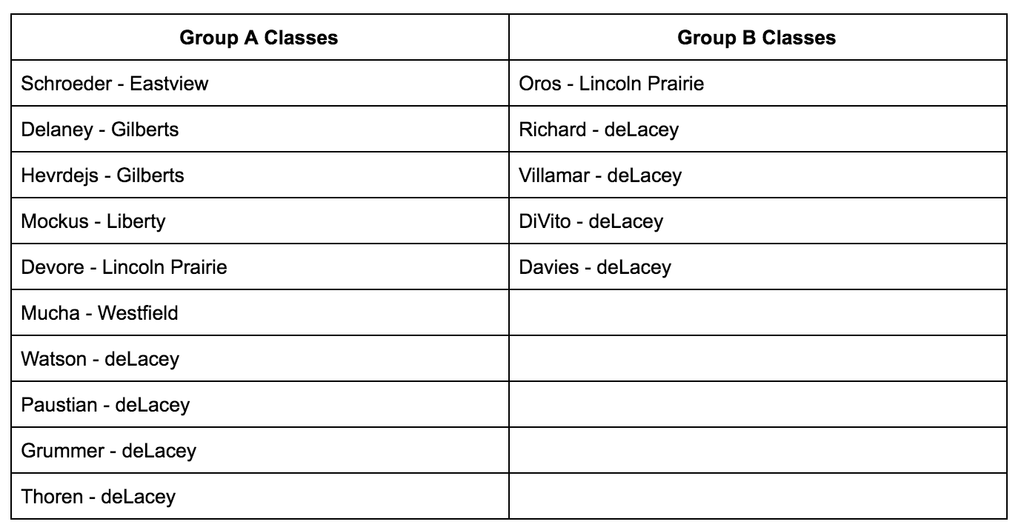 Full-Day Preschool:
Full-day preschool students enrolled in in-person classes will return to Parkview Elementary School two days per week. Students will attend classes each Tuesday and Thursday from 8 a.m. - 1 p.m. Mondays, Wednesdays and Fridays will remain Remote Learning days at home with lessons provided by your child's teacher.
Students already enrolled in remote-only sessions will maintain their current teacher following the daily schedule of the other full-day classrooms.

A Closing Note for Parents:
Finally, to our parents, I cannot begin to express the appreciation I have for your patience and your support through this process. I want to assure you that your feedback is meaningful to me and carries considerable weight in our district's decision-making processes. While a decision to transition to remote learning may not be well-received by all members of our community, please know that your voice has been heard. Our district's top priority is to ensure the safety of our students, our families, and our staff and this decision aligns to our commitment to safety. I want to assure you I understand the urgency to return to in-person instruction. I also understand the social-emotional complications some of our students have encountered during remote learning. Our district's work will continue to focus on providing our students with the highest quality education possible regardless of instructional delivery. Over the next few weeks, our efforts will focus on best supporting our students and our parents with the remote learning process, including an emphasis on the social-emotional resources available to our students (as a general reminder, students can contact their teacher or their counselor any time they are in need of social-emotional support). When it is safe for students to return to our schools, staff will be ready to support our students in their transition to an in-person learning environment. And, should the factors that determine in-person and remote instruction continue to fluctuate, the district will work to minimize schedule changes and other potential disruptions to ensure the smoothest possible transitions between instructional delivery models.
Sincerely,
Fred Heid
Superintendent
Estimados Padres y Tutores:
Tenga en cuenta que a pesar que mientras que el contenido al principio de este mensaje es específico para los padres y tutores de estudiantes de kínder a 5º grado, la parte inferior del mensaje incluye actualizaciones para preescolar, secundaria, preparatoria, Escuela Oak Ridge y estudiantes en programas independientes.
El martes 27 de octubre, la Junta Educativa aprobó los criterios y el proceso que utilizará el Distrito 300 al tomar decisiones con respecto a nuestra capacidad de ofrecer instrucción en persona. El distrito evaluará el estado de la instrucción en persona en base en un análisis exhaustivo de las métricas del tablero del departamento de salud, los casos de COVID-19 de los estudiantes y cualquier impacto en nuestra capacidad de proveer personal en las escuelas al tomar decisiones sobre cambios en la instrucción en persona. Para obtener una explicación más detallada de estas métricas, consulte el gráfico a continuación y este video de mi presentación a la Junta Educativa.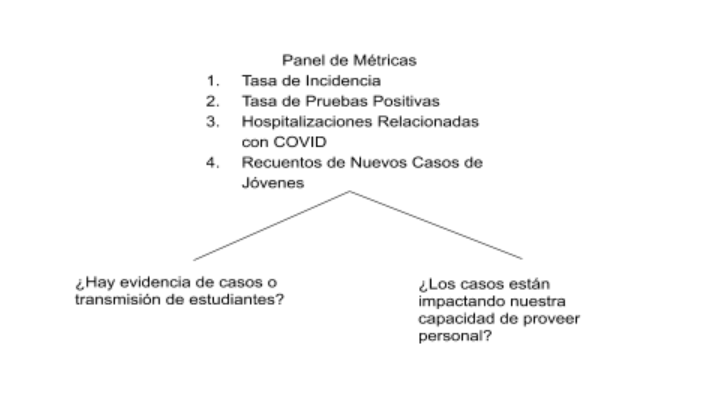 Decisión:
Hemos luchado para proporcionar la opción del aprendizaje en persona tanto como remoto para nuestras familias y estudiantes. Todo el tiempo supimos, y hemos compartido, que nuestra capacidad para hacerlo depende de las condiciones locales. Desafortunadamente, según los criterios mencionados anteriormente, hemos llegado a un punto en el que el Distrito 300 debe suspender el aprendizaje en persona y regresar a todos a un estado remoto.
Como tal, a partir del lunes 2 de noviembre, el Distrito 300 hará la transición a completamente remoto hasta las vacaciones de Acción de Gracias. Tenga en cuenta que todos los estudiantes de K-5 (consulte a continuación para obtener información sobre preescolar, programas independientes y Oak Ridge) regresarán con sus maestros y horarios originales para el primer trimestre con una excepción al horario de los viernes (que se describe a continuación).
Estamos increíblemente agradecidos por el esfuerzo, la flexibilidad y la dedicación a los estudiantes que continuamente demostró nuestro personal y administradores de primaria al abrir la instrucción en persona de K-3 y la Academia Virtual la semana pasada. Han hecho un trabajo increíble y continúan demostrando el más alto nivel de compromiso con nuestros estudiantes. Además, también estamos increíblemente orgullosos de los más de 90 miembros del personal que aceptaron asumir nuevas funciones de instrucción para garantizar que pudiéramos ofrecer una opción para nuestras familias. Su trabajo y compromiso deben ser aplaudidos y celebrados. Sin embargo, estoy seguro de que estarán encantados de regresar a sus roles y estudiantes originales la próxima semana.
No estamos renunciando a la opción en persona. Tenemos la esperanza de que las próximas tres semanas brinden el tiempo necesario para ver la disminución de los indicadores locales de COVID-19 y apoyar el regreso a la instrucción en persona. Durante este tiempo, también revisaremos y modificaremos nuestras opciones de aprendizaje en persona y remoto para minimizar cualquier cambio adicional y maximizar nuestra capacidad de servir a ambos grupos con su maestro original.
Para ser lo más consistentes posible para nuestros estudiantes y personal, a partir del 2 de noviembre regresaremos a un horario regular de primaria a través del aprendizaje remoto, reflejando el primer trimestre, con la excepción de los viernes.
Lunes a Jueves:

El día de aprendizaje estudiantil comenzará a las 8 a.m. y finalizará a las 2:15 p.m. La instrucción se impartirá sincrónicamente (salón de clase en vivo).




Viernes:

los estudiantes comenzarán a las 8 a.m. y finalizarán a la 1:30 p.m. (permitiendo un almuerzo de 30 minutos). Todos los viernes habrá una combinación de aprendizaje sincrónico y asincrónico. La instrucción para Artes de Lenguaje (90 min) y matemáticas (60 min) se llevará a cabo de 8 a.m. a 10:30 a.m. de forma remota con el maestro del salón. El resto del día incluirá un tablero de opciones de cursos especiales asincrónicas, lecciones i-Ready, intervenciones sincrónicas, minutos sincrónicos del IEP y EL y/o tareas asincrónicas independientes como lectura independiente. El maestro del salón también puede realizar lecciones sincronizadas en grupos pequeños con los estudiantes según sea necesario.





Consulte el

calendario A/B/C/D/E

haciendo clic en el enlace para realizar el seguimiento del día de la letra asignada para las rotaciones especiales. Tenga en cuenta que el viernes es un día especial asincrónico y no habrá un "día de letra" asignada a los viernes durante el segundo trimestre. Los estudiantes participarán en especiales de enriquecimiento asincrónico.






Los padres pueden ver la asignación original del maestro de clase de su estudiante en el Portal para Padres. Los padres pueden seguir

estas instrucciones

para acceder a la asignación del maestro de su salón de clases.
Tablero:
Es importante señalar que no aplicamos las métricas del tablero del departamento de salud en general en todo el distrito. En cambio, evaluamos las métricas de la comunidad que rodea la escuela utilizando datos basados en los códigos postales de la escuela. El tablero requiere que comencemos a revisar otros criterios cuando dos o más de las métricas del tablero caen en la columna roja. Cuando aplicamos esto en nuestros códigos postales principales, encontramos que los códigos postales dentro del condado de McHenry son rojos en cuatro de los cinco indicadores y el condado de Kane es rojo para los cinco criterios de la siguiente manera: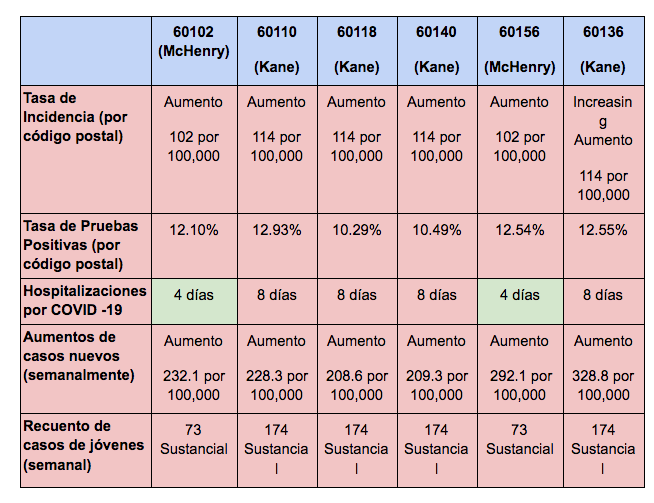 Casos de Estudiantes o Evidencia de Transmisión:
Hasta la fecha, el Distrito 300 ha tenido clases en persona por solo seis días de kínder hasta 3º grado. Estos seis días resultaron en lo siguiente:
Se han cerrado cuatro salones de clase y se han convertido en aprendizaje remoto debido a eventos de exposición.

Uno de los cuatro salones de clase se cerró debido a que cumplío con la definición de brote del Departamento de Salud (consulte el tercer punto)

Hemos tenido que poner en cuarentena a 202 estudiantes por ser identificados como que tuvo "contacto cercano" con otra persona que dio positiva para COVID-19 (estudiante o miembro del personal)

Actualmente estamos monitoreando nueve edificios escolares para detectar posibles eventos de brotes. Como referencia, los Departamentos de Salud de Kane y McHenry definen un brote en el salón de clase como:
"Un brote en una escuela se define como dos (2) casos confirmados de infecciones por COVID-19 que ocurren dentro de 14 días calendario uno del otro en personas del mismo salón de clase, equipo o club. Esto se debe a que los casos estarían vinculados epidemiológicamente (exposición conocida uno del otro) con respecto al lugar (el mismo salón de clases, equipo o club) y la hora (dentro de 14 días calendario). Esto provocaría una investigación por parte del Departamento de Salud del Condado de McHenry que podría resultar en la recomendación para realizarse pruebas y ponerse en cuarentena para los estudiantes/personal en el salón de clase, equipo o club afectado y/u otras intervenciones de mitigación que incluyen, entre otras, la cancelación de actividades o el cierre de la escuela ". (https://insight.livestories.com/s/v2/mchenry-county-il-school-metrics-dashboard/649688f8-4d1b-4924-b492-eec339d5c6ab )"
Según la definición, el Departamento de Salud puede indicarnos que cerremos un salón de clase o el edificio según la naturaleza específica de los eventos y cómo están vinculados. A partir del 26 de octubre, el Departamento de Salud Pública de Illinois (IDPH) definió 5 o más casos vinculados en una escuela como un brote que resultaría en el cierre de una escuela.
En este momento, hay suficiente evidencia para sugerir que los eventos de COVID-19 están aumentando dentro de nuestra población estudiantil.
Impacto en nuestra capacidad para proveer personal a las escuelas:
Como se describió anteriormente, revisamos nuestros datos de COVID-19 para determinar si los casos y/o los eventos de cuarentena que resultaron están afectando nuestra capacidad para respaldar el aprendizaje en persona. Hasta la fecha (desde el 16 de octubre), hemos tenido 59 eventos relacionados con COVID que involucran a nuestro personal de instrucción de primaria (maestros) de los cuales 35 (o 59%) son maestros en persona que ya no pueden enseñar desde la escuela todos los días. Estos eventos también están afectando a nuestros equipos administrativos escolares, ya que ahora tenemos tres directores de las escuelas y un subdirector en cuarentena en este momento. Nuestros equipos escolares han hecho un trabajo increíble al llenar estos puestos, pero estamos agotando rápidamente nuestros recursos y hemos llegado a un punto en el que los casos confirmados de COVID-19 y los eventos relacionados con COVID-19 están comenzando a afectar negativamente nuestra capacidad para proporcionar la instrucción en persona.
Horarios de los Estudiantes:
A medida que el Distrito hace la transición al aprendizaje remoto el 2 de noviembre, los estudiantes seguirán los horarios que se describen a continuación:
Ejemplo del Horario de Instrucción de Primaria para el Segundo Trimestre: A Partir del 11/2/20
Horario Completamente Remoto K-5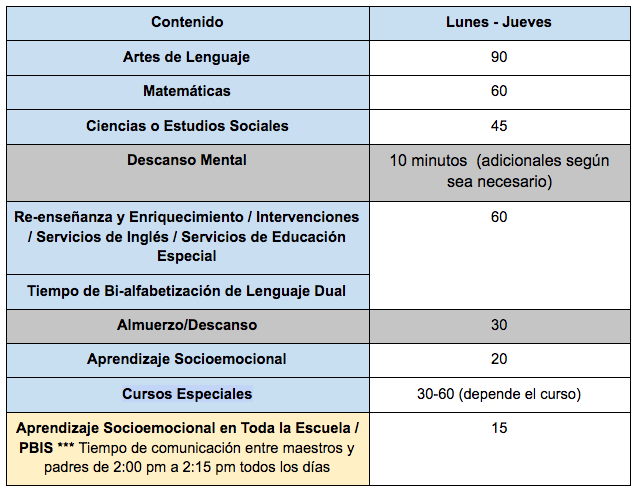 *El orden del contenido variará según la escuela y el salón de clase.
Viernes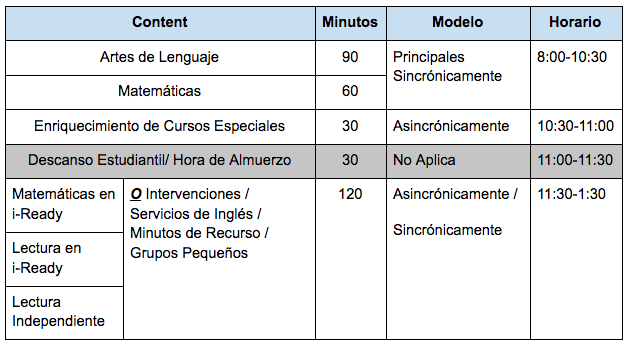 *** El D300 comprende la importancia de las conexiones entre el hogar y la escuela durante el aprendizaje remoto. Notará que a los maestros se les ha asignado tiempo dentro del día del estudiante para comunicarse con los padres. La comunicación se enfocará en las actividades de instrucción, así como en la información sobre el próximo aprendizaje.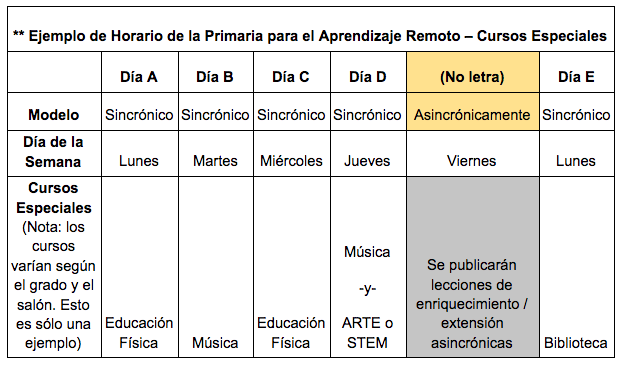 Horarios de Preescolar, Programas Independientes, Oakridge y Secundaria/Preparatoria:
Clases Independientes de Educación Especial: Las clases independientes continuarán siguiendo su horario y modelo actual.


Escuela Oak Ridge: Oak Ridge mantendrá su horario y modelo actual.


Escuelas Secundarias y Preparatorias:



Cualquier estudiante de la escuela secundaria o preparatoria identificado por su director como que necesita apoyos adicionales comenzará ahora el 9 de noviembre.




Los estudiantes de CTE de la escuela secundaria continuarán con su horario establecido.



Preescolar:

los horarios de preescolar cambiarán de la siguiente manera:
Preescolar de Medio Día
Preescolar de medio día para todos los estudiantes de preescolar volverán a su horario A/B de asistencia en persona. Su estudiante volverá a su salón de clases original. La instrucción remota se llevará a cabo con el maestro original de su estudiante. Esto puede requerir que su tiempo de aprendizaje remoto cambie cada día para alinearse con el horario de instrucción remota de su maestro.
Los estudiantes de educación especial en clases independientes de medio día no tendrán cambios en su horario actual o asignación de salón.

Los maestros serán asignados de la siguiente manera: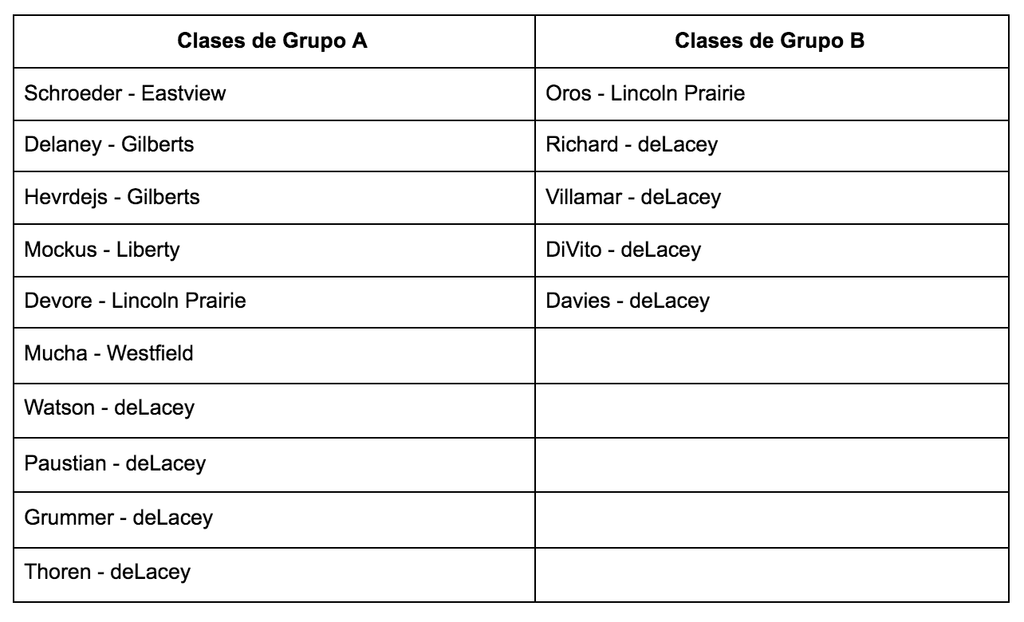 Preescolar de Día Completo
Los estudiantes de preescolar de día completo inscritos en clases en persona regresarán a la Escuela Primaria Parkview dos días a la semana. Los estudiantes asistirán a clases todos los martes y jueves de 8 a.m. a 1 p.m. Los lunes, miércoles y viernes seguirán siendo días de aprendizaje remoto en casa con lecciones proporcionadas por el maestro de su estudiante.
Los estudiantes que ya están inscritos en sesiones remotas mantendrán a su maestro actual siguiendo el horario diario de los otros salones de clase de día completo.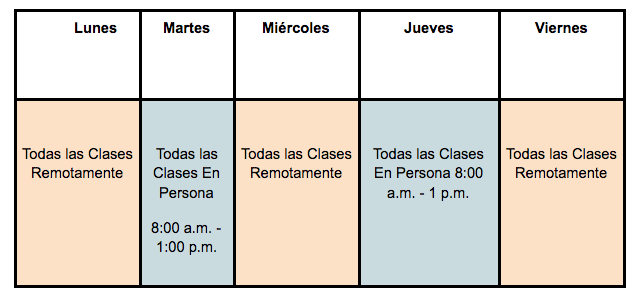 Una nota de cierre para los padres:
Finalmente, a nuestros padres, no puedo comenzar a expresarles el agradecimiento que tengo por su paciencia y su apoyo durante este proceso. Quiero asegurarles que sus comentarios son significativos para mí y tienen un peso considerable en los procesos de tomar decisiones para nuestro distrito. A pesar de que la decisión de llevar a cabo la transición al aprendizaje remoto no sea bien recibida por todos los miembros de nuestra comunidad, sepa que se ha escuchado su voz. La principal prioridad de nuestro distrito es garantizar la seguridad de nuestros estudiantes, nuestras familias y nuestro personal y esta decisión se alinea con nuestro compromiso con la seguridad. Quiero asegurarles que entiendo la urgencia de volver a la instrucción en persona. También comprendo las complicaciones socioemocionales que algunos de nuestros estudiantes han encontrado durante el aprendizaje remoto. El trabajo de nuestro distrito continuará enfocándose en proporcionarles a nuestros estudiantes la educación de la más alta calidad posible, independientemente de la entrega de instrucción. Durante las próximas semanas, nuestros esfuerzos se centrarán en apoyar mejor a nuestros estudiantes y a nuestros padres con el proceso de aprendizaje remoto, incluyendo un énfasis en los recursos socioemocionales disponibles para nuestros estudiantes (como recordatorio general, los estudiantes pueden comunicarse con su maestro o su consejero en cualquier momento que necesiten apoyo socioemocional). Cuando sea seguro para los estudiantes regresar a nuestras escuelas, el personal estará listo para apoyar a nuestros estudiantes en su transición a un ambiente de aprendizaje en persona. Y, si los factores que determinan la instrucción en persona y remota continúan cambiando, el distrito trabajará para minimizar los cambios de horario y otras posibles interrupciones para asegurar las transiciones lo más fluidas como sea posible entre los modelos de enseñanza.