Return to Headlines
A Return to School Update from Superintendent Heid
Dear Parent or Guardian,
This evening, I will outline our district plans to return to school in August during a Board of Education meeting at 6:30 p.m. You may view the meeting live online at https://www.youtube.com/user/CUSD300. On Wednesday, the video will also be posted online at www.d300.org/BoardMeetingVideoArchive.
As you may recall, I previously outlined four return to school options that were each dependent upon a unique set of circumstances/criteria. Each sought to provide the best possible balance between academics, social-emotional well-being, and student/staff safety. Since that time, we have continued to revise each option to conform to the various situations that we may face and to new guidance provided by the state. As a reminder, I have provided a table below that outlines each plan option we have been working on to date:

Our work to date has focused on our core beliefs that:
The best educational experience for our students is the result of in-school instruction, peer interactions, and participation in extracurricular activities.





Families need flexibility to accommodate their personal needs and/or concerns.





We must take every reasonable precaution to promote a positive and safe environment for our students and staff.





Our plans must remain flexible to accommodate for changes in state guidance or local conditions.
At this time, I believe our return to school plan does align with our overarching beliefs while also allowing families to make an informed decision regarding what option best suits their needs. Please understand that the outline below is not intended to address every possible question. It is solely intended to provide a general overview of our plan and options available to families. Knowing that you will have a lot of specific questions, we will provide a Return to School Handbook in the near future that is intended to provide you with a more comprehensive overview of the daily operations in our schools.
Return to School Plan Summary:
All D300 schools will resume face-to-face instruction on August 13th, 2020.



Families will have two options to enroll in e-Learning:





Medical Exemption: specific to a student's pre-existing and/or qualifying condition


Other Exemption: specific to families that have other concerns with their child's return to school



E-Learning requirements:





To assist us in our planning, parents requesting to have their child participate in e-Learning must submit either an attached "Exemption 'Medical' Request for e-Learning" form or "Exemption 'Other' Request for e-Learning" form to their school no later than July 31, 2020.


Any family that chooses to enroll in the e-Learning option does so for the entire quarter. Families will only be allowed to change to in-person learning at the end of each quarter. For reference, quarters end on October 9, 2020, December 18, 2020, March 12, 2021, and May 20, 20201.



Student assigned to e-Learning will follow their assigned daily schedule.




Students are required to log in on time (at their scheduled time) and participate fully for each class period.





Tardies and absences will be recorded and addressed in accordance with our student code of conduct and Board policies.





Grading policies will apply as outlined by the teacher and course.





The student is responsible for the completion and submission of all assignments.




Students and families have the obligation to contact the teacher(s) to make special arrangements for the completion of labs or activities that cannot be completed at home.



Mandatory Face Coverings:





Per Illinois Department of Health (IDPH) mandate, all students and staff must wear a mask or face shield as follows:




While riding the bus





Upon arrival to school and during dismissal from school each day





At all times during the school day (e.g., classrooms, hallways, media center, restrooms, gymnasium, and cafeteria)





Staff must also wear a mask or face shield in classrooms and all common areas (hallways)





The district will provide a medical exemption for a mask for those who qualify due to a pre-existing medical condition. In these instances, the student will be required to wear a face shield at all times (unless the treating physician can justify why a face shield would adversely impact the student's medical condition).





The student code of conduct will be revised to include the mandatory use of face covering. Failure or refusal to do so will result in disciplinary action and could result in the eventual removal from the school setting and reassignment to e-Learning.




Note: The use of face shields will be allowed for students and staff who have specific medical conditions and under special circumstances (e.g., during a session with a student and speech pathologist, foreign language classes, NIA program, and English Learner classes). https://www.isbe.net/Documents/FAQ-Part-3-Transition-Guidance.pdf



If your child qualifies for a mask or face shield exception, please submit the attached "Mask/Face Shield Medical Exemption" form to your child's school by July 31, 2020.
In addition to the previously mentioned return to school handbook, we will look to schedule a series of virtual town hall meetings over the next two weeks. These meetings will be subject-specific (e.g., cleaning, meal service, social distancing) to ensure that we remain on topic and that my team and I are able to address as many questions as possible. Please know that your questions and our responses will also be used to develop an FAQ for others to reference. You may also submit your questions via email to backtoschool@d300.org. We will provide a response or direct you to the FAQ where a similar question was addressed previously.
Finally, I want to point out that there will be a change to the school year calendar. The legislature has determined that all Illinois schools are to be closed on election day this November 3rd, 2020. As a result, this day will now become a holiday or student and staff non-attendance day. To make up for this lost day, we will convert the existing holiday on April 19th, 2021 to a regular attendance day. These changes will be reflected in the new school year calendar posted online after July 17th, 2020.
Thank you again for your patience as we worked through all of the logistics surrounding the reopening of school.
I hope that you find that our plan and options serve to satisfy your concerns to the extent possible while also affording you options.
Sincerely,
Fred Heid
Superintendent
Forms:
Exemption "Medical" Request for e-Learning
Exemption "Other" Request for e-Learning
Mask/Face Shield Medical Exemption Form
Estimado Padre o Tutor:
Anoche, describí los planes de nuestro distrito para regresar a clases durante la reunión de la Junta Educativa. Puede ver la reunión en su totalidad en:
www.d300.org/BoardMeetingVideoArchive.
Como recordarán, anteriormente describí cuatro opciones de regreso a clases que dependían de un conjunto único de circunstancias/criterios. Cada uno trató de proporcionar el mejor equilibrio posible entre lo académico, el bienestar socioemocional y la seguridad de los estudiantes/personal. Desde ese momento, hemos seguido revisando cada opción para cumplir con las diversas situaciones que podemos enfrentar y con la nueva orientación proporcionada por el estado. Como recordatorio, he proporcionado una tabla a continuación que describe cada opción del plan en la que hemos estado trabajando hasta la fecha: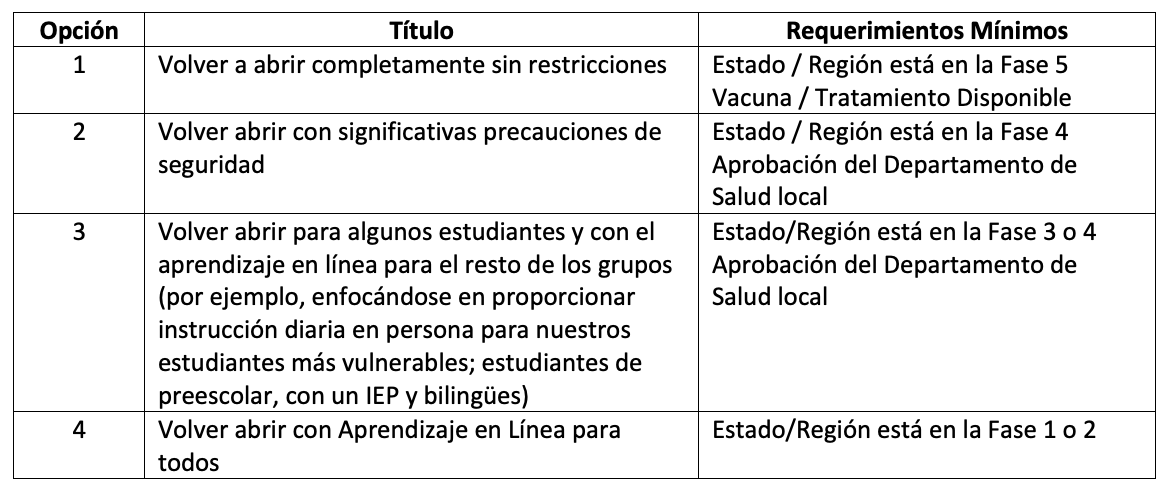 Nuestro trabajo hasta la fecha se ha enfocado en nuestras creencias fundamentales que:
La mejor experiencia educativa para nuestros estudiantes es el resultado de la instrucción en la escuela, las interacciones entre compañeros y la participación en actividades extracurriculares.

Las familias necesitan flexibilidad para adaptar sus necesidades y/o preocupaciones personales.

Debemos tomar todas las precauciones razonables para promover un ambiente positivo y seguro para nuestros estudiantes y personal.

Nuestros planes deben permanecer flexibles para adaptarse a los cambios en la orientación estatal o las condiciones locales.
En este momento, creo que nuestro plan de regreso a clases se alinea con nuestras creencias generales así mismo les permite a las familias que tomen una decisión informada sobre qué opción se adapta mejor a sus necesidades. Por favor, comprenda que el esquema a continuación no tiene como objetivo abordar todas las preguntas posibles. Su único objetivo es proporcionar una visión general de nuestro plan y las opciones disponibles para las familias. Teniendo en cuenta que tendrá muchas preguntas específicas, les proporcionaremos un Manual de Regreso a Clases próximamente que tiene la intención de proporcionarle una descripción más completa de las operaciones diarias en nuestras escuelas.
Resumen del Plan de Regreso a Clases:
Todas las escuelas del D300 reanudarán la instrucción en persona el 13 de agosto del 2020.

Las familias tendrán dos opciones para inscribirse al aprendizaje en línea:

Exención Médica: específica a una condición preexistente y/o calificada de un estudiante

Otra Exención: específica para las familias que tienen otras preocupaciones con el regreso de sus estudiantes a la escuela

Requisitos del Aprendizaje en Línea





Para ayudarnos en nuestra planificación, los padres que soliciten que su estudiante participe en el aprendizaje en línea deben enviar el formulario adjunto "Solicitud de 'Otra' Exención para el Aprendizaje en Línea" a su escuela a más tardar el 31 de julio del 2020 (tenga en cuenta que todos los formularios se enviarán por correo electrónico a las familias y estarán disponibles en nuestro sitio web próximamente).
Cualquier familia que elija inscribirse en la opción de aprendizaje en línea, lo hará durante todo el trimestre. Las familias sólo podrán cambiar al aprendizaje en persona al final de cada trimestre. Para su referencia, los trimestres terminan el 9 de octubre del 2020, 18 de diciembre del 2020, 12 de marzo del 2021 y 20 de mayo del 2021.

Los estudiantes asignados al aprendizaje en línea seguirán su horario de clases asignado cada día.

Se requiere que los estudiantes inicien sesión a tiempo (a la hora programada) y participen plenamente en cada período de clase.

Los retrasos y las ausencias se registrarán y se abordarán de acuerdo con nuestro código de conducta estudiantil y los reglamentos de la Junta Educativa.

Los reglamentos de calificación se aplicarán según lo descrito por el maestro y el curso.

El estudiante es responsable de completar y enviar todas las tareas.

Los estudiantes y las familias tienen la obligación de trabajar con el maestro (s) para hacer arreglos especiales para completar los trabajos de laboratorio o actividades que no se pueden completar en casa.

Coberturas Faciales Obligatorias:

Según el mandato del Departamento de Salud de Illinois (IDPH por sus siglas en inglés), todos los estudiantes y el personal deben utilizar un cubrebocas o careta de la siguiente manera:

Mientras viajaba en el autobús

Al llegar a la escuela y durante la salida de la escuela todos los días.

En todo momento durante el día escolar (por ejemplo, salones de clase, pasillos, biblioteca, baños, gimnasio y cafetería)

El personal también debe utilizar un cubrebocas o careta en los salones de clase y en todas las áreas comunes (pasillos).

El distrito proporcionará una exención médica para un cubrebocas para aquellos que sean elegibles debido a una condición médica preexistente. En estos casos, se requerirá que el estudiante utilice una careta en todo momento (a menos que el médico que lo trata pueda justificar por qué una careta afectaría negativamente la condición médica del estudiante).

El código de conducta estudiantil será revisado para incluir el uso obligatorio de cubrebocas. El incumplimiento o negarse a utilizarlo resultará en una acción disciplinaria y podría resultar en que el estudiante será removido eventualmente del entorno escolar y sea reasignado al aprendizaje en línea.

Nota: Se permitirá el uso de caretas para los estudiantes y el personal que tengan condiciones médicas específicas y bajo circunstancias especiales (por ejemplo, durante una sesión con un estudiante y un patólogo del habla, clases de idiomas extranjeros, programa NIA y clases de estudiantes de inglés). https://www.isbe.net/Documents/FAQ-Part-3-Transition-Guidance.pdf

Si su estudiante es elegible para una excepción de cubrebocas o careta, envíe el formulario adjunto "Exención Médica de Cubrebocas/Careta" a la escuela de su estudiante antes del 31 de julio del 2020.
Además del manual de regreso a clases mencionado anteriormente, buscaremos programar una serie de reuniones virtuales del municipio durante las próximas dos semanas. Estas reuniones serán específicas para cada tema (por ejemplo, limpieza, servicio de comidas, distanciamiento social) para garantizar que permanezcamos en el tema y que mi equipo y yo podamos abordar tantas preguntas como sea posible. Tenga en cuenta que sus preguntas y nuestras respuestas también se utilizará para desarrollar un documento de preguntas más frecuentes para que otros puedan consultarlas. También puede enviar sus preguntas por correo electrónico a backtoschool@d300.org. Le proporcionaremos una respuesta o lo dirigiremos a las preguntas más frecuentes donde se haya abordado una pregunta similar anteriormente.
Finalmente, quiero señalar que habrá un cambio en el calendario del año escolar. La legislatura ha determinado que todas las escuelas de Illinois se cerrarán el día de las elecciones este 3 de noviembre del 2020. Como resultado, este día se convertirá en día festivo o día de no asistencia para los estudiantes y personal. Para recuperar este día perdido, convertiremos el día festivo existentes del 19 de abril del 2021 en un día de asistencia regular. Estos cambios se reflejarán en el nuevo calendario del año escolar publicado en línea después del 17 de julio del 2020.
Gracias nuevamente por su paciencia mientras trabajamos en toda la logística que rodea la reapertura de las escuelas.
Espero que encuentre que nuestro plan y opciones sirven para satisfacer sus preocupaciones en la medida de lo posible y al mismo tiempo le brindan opciones.
Atentamente,
Fred Heid
Superintendente
Forms:
Exemption "Medical" Request for e-Learning - Spanish
Exemption "Other" Request for e-Learning - Spanish
Mask/Face Shield Medical Exemption Form - Spanish